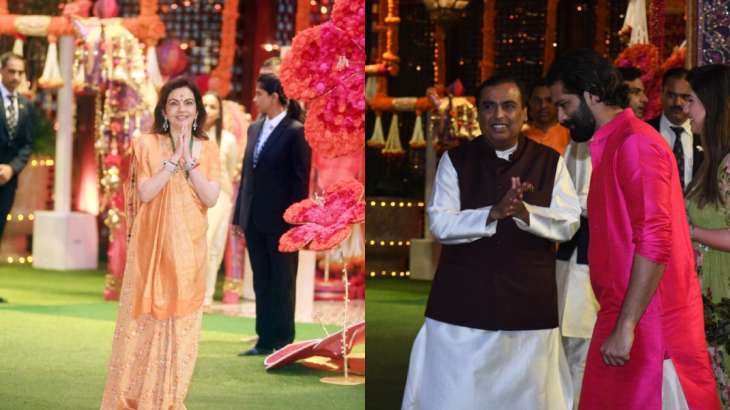 Mukesh Ambani and Nita Ambani celebrated Ganesh Chaturthi at their home in Antilia with much grandeur. The pictures and videos of them are going viral on social media. For them, this year's Ganesh Chaturthi is special with the arrival of their grandchildren and their younger son Anant Ambani who will soon get married to Radhika Merchant. On the occasion of Ganesh Chaturthi, their residence Antilia is seen sparkling. Their luxurious house is shining with lights and preparations for its decoration had started a long time ago. Their main motto of Ganesh Chaturthi celebrations this year is to empower people, sustain livelihoods and bring out the importance of resourcefulness.
In the pictures and videos, Nita Ambani exudes elegance in the orange saree keeps her look minimal, and leaves her hair open completely. She accessorised it with diamond and emerald-crusted kadas. Whereas her husband Mukesh Ambani was decked up in a white kurta set and layered it with a traditional jacket.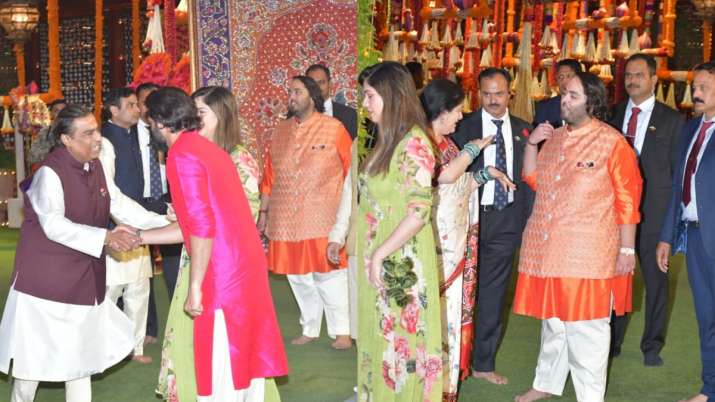 Nita and Mukesh Ambani's younger son Anant Ambani opted for a vibrant orange kurta set with bejewelled buttons and a statement brooch. The couple was also seen welcoming politician Raj Thackeray with his wife Sharmila Thackeray. The whole Ambani family is also seen performing Aarti too.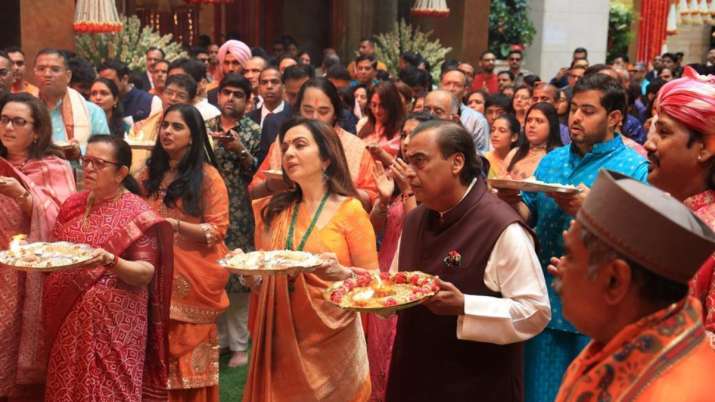 Also read: Rajkummar Rao and Patralekhaa celebrate Ganesh Chaturthi in eco-friendly way, shares pictures on Instagram
Pitambar, Paithani, Purpose and the Planet: Celebrating Ganesh Chaturthi through craft, sustainability, and empowerment
Our work at Reliance always revolves around – People, Planet, and Purpose. This year, our Ganesh Chaturthi celebrations embody these pillars. From attire to décor, from technique to interpretation, from fabric to floral – every element is inspired by craft, sustainability, and empowerment.

 

Purpose- Celebrating the spirit of 'Make in India'
A tribute to Maharashtra's cultural legacy, the central theme of decor and design revolves around Paithani. This celebrated Indian art form has been practiced by traditional Indian artisans who have perfected and passed down their skills over generations. For this year's Ganpati, the traditional flora and fauna motifs found in Paithani are reimagined through various Indian crafts. From Lucknow's Zardozi hand embroidery to Odisha's hand-made Kagaj Charai (paper maché), the entire space is transformed into a tapestry of Indian craft.

 

People- Empowering people and sustaining livelihoods.
Ganpati's Baraat, featuring Mooshaks, Modaks, Elephants, Camels, and Barasinghas, is lovingly handwoven by over 700 underprivileged women. Crafted to perfection, these toys have enabled, employed, and empowered women from disadvantaged backgrounds. This celebration brings joy not only to our homes but also to the lives of countless craftspeople across the country. Over 400 artisans have meticulously embellished the floral wall behind the idol using the ancient art of flower pasting.
The Battis Gajanana corridor is adorned with 32 forms of Ganesha on sheer panels, each showcasing reimagined Paithani motifs. This endeavor required over 900 hand embroiderers and over 5,000 hours to design and create textiles that narrate stories and tales of Ganesha's mythology, significance, and divine miracles. A tapestry of over five lakh ghungroos was woven and placed across the area. Welcoming Bappa to the tinkling of these ghungroos has added an aura of calm and positivity to the festivities.

 

Planet- An ode to our mother Earth.
Our décor this year also tells a story of resourcefulness and waste management, where every textile, floral, and design element has been thoughtfully handpicked. Hundreds of scrap fabrics were repurposed to create toys and tassels celebrating the arrival of Ganesha. These Mooshak and Modak toys have been placed on recycled PVC pipes encased with flowers and fabrics. All-natural florals used at the event will be recycled and repurposed to create manure for plants and incense sticks for temples. Only sustainably sourced natural silks, cotton, and textiles have been used all across.
Also read: ICC World Cup 2023: After Amitabh Bachchan, Superstar Rajinikanth gets 'Golden Ticket' for mega cricket event
Read More Lifestyle News