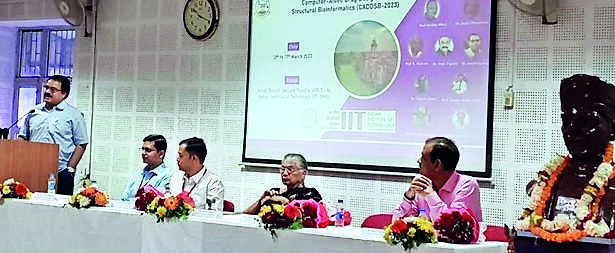 Varanasi: The Interdisciplinary Data Analytics and Predictive Technologies (I-DAPT) Hub basis underneath the National Mission on Interdisciplinary Cyber-Physical Systems (NM-ICPS) at IIT (BHU) has organised a five-day short-term course program on Computer-Aided Drug Design and Structural Bioinformatics 2023 (CADDSB-2023) from March 13 to 17.
The challenge director of the I-DAPT Hub basis and Dean (analysis & improvement), Prof Vikash Kumar Dubey mentioned that about 80 contributors from throughout India are taking part on this course. He mentioned that the invited lectures and hands-on periods from main consultants within the subject would absolutely open newer vistas of specialized information within the area of synthetic intelligence/machine learning-enabled computational biology discovery and finally, well being informatics and translational analysis.
"I firmly consider that it completely aligns with the healthcare initiatives of Government of India and with the visionary nationwide mission, such because the 'PM Ayushman Bharat Health Infrastructure Mission' of the PM Narendra Modi," mentioned the director Prof Pramod Kumar Jain. Each day contains two hands-on coaching periods by the consultants which might assist create educated manpower for the Indian trade and academia.
The challenge coordinator of the I-DAPT Hub basis, RK Singh mentioned that programs like this might empower youthful generations tothink analytically concerning the essential health-related issues. The course convenors, Aditya Kumar Padhi and Sumit Kumar Singh highlighted that the contents of the course would considerably enhance the elemental and sensible information of contributors.
On the primary day of the programme, Prof Krishna Misra from IIIT-Allahabad, in her inaugural lecture, elaborated on the significance of bioinformatics in fixing healthcare-related issues and illness administration and highlighted profession alternatives in bioinformatics. Ravi Khare, CEO of Symphony Technologies, shared a holistic overview of the position of contemporary statistical instruments in drug improvement and manufacturing.
Anshu Bharadwaj, a principal scientist at IMTECH, Chandigarh, mentioned the looming threats of elevated antimicrobial resistance (AMR) and the purposes of data-driven drug discovery utilizing machine studying, community pharmacology and dynamic pharmacophore strategy in mitigating the hazard. Timir Tripathi from North-Eastern Hill University, mentioned numerous nuances of analysis ethics and integrity within the presentation of structural information.
Janesh Kumar from CCMB Hyderabad mentioned the nitty-gritty of the cryo-electron microscopy method and its software in drug discovery. Prof B Jayaram, professor from IIT Delhi, showcased the utility of a supercomputing facility, numerous computational suites, and software program (Sanjeevini, Bhageerath, Dhanvantri), all indigenously developed in his lab at IIT Delhi, that may considerably scale back the drug improvement timelines.